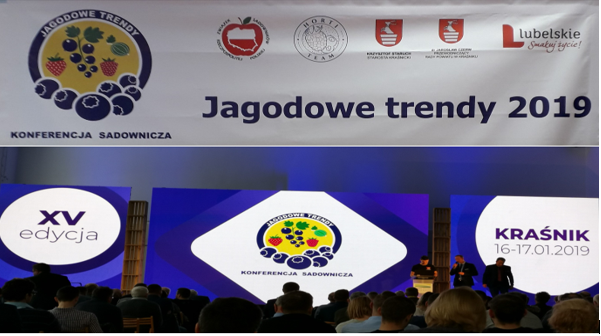 Berry Trend Jubilee XV edition in Krasnik
Jubilee XV Berry Trend edition took place in Krasnik on 16th and 17th of January 2019. Although regional, the trade show, and the conference abundant in variety of talks, attracted many visitors.
Meiosis particularly welcomed the talk offered by Mr Krzysztof Sak of Agronom Plants. We were pleased to see a propagator related to us, who with such involvement shared the importance of protecting the Breeders' rights to varieties. Mr Sak explained in detail the process of bringing a new variety to the market and consequences arising from breaching the Breeders' rights.
We listened with interest to the talk of Dr Jan Danek, presenting the strawberry breeding programme in NIWA Brzezna, that aims to find a replacement to Senga Sengana, a variety decreasing in popularity within the processing market, which in Poland reached a significant 170.000 tonnes mark in 2017.
Dr Paszko from the University of Life Sciences in Lublin concentrated on profit achievability, comparing fruit production of strawberry everbearers to primocane raspberries. We were glad to hear that two new everbearers, Malling™ Champion and EMR639 (both from East Malling strawberry Breeding Club) offered by Meiosis, showed a potential crop of 25 tonnes per hectare. Malling™ Champion will be officially launched in July of 2019.
Alexander Yaraeshchenko from the Ukrainian Horticulture Institute presented an overview of the fast-developing Ukrainian berry market. Interestingly, the second biggest plantation territory, after strawberries, is taken by blackcurrants, just before raspberries. Blueberry and honeysuckle production have a potential to grow significantly in a short time, even though the markets receiving the fruit are not yet well established.
We would like to thank the organisers of Berry Trend fair for their professional approach and wish them many more jubilees to come.
Meiosis Team
https://www.meiosis.co.uk/wp-content/uploads/2019/02/Krasnik-2019.png
336
601
Meiosis Ltd
https://meiosis.co.uk/wp-content/uploads/2016/06/logo_meiosis.png
Meiosis Ltd
2019-02-07 09:43:39
2019-02-07 09:43:39
Berry Trend Jubilee XV edition in Krasnik